What Credit Score is Needed to Finance a Car?


When you have bad credit, car finance options might seem pretty slim. But with Allen Samuels CDJR Aransas Pass by your side, you might be surprised by just how many opportunities you have. So, what credit score is needed to finance a car? Let's find out what lenders look for when reviewing your application, and learn how to get a great deal around Corpus Christi and Kingsville – even with less-than-perfect credit!
Credit Score to Finance a Car
Your credit score says a lot about you when applying for financing, but for many drivers, all of the math can get a little overwhelming! What is the average credit score to finance a car? In 2016, the average credit score was 714 for a new vehicle and 655 for a used model. But since this figure it an average, it means some drivers had higher scores and some had lower scores. Let's take a look into how the scores are categorized:
Superprime: 781 to 850
Prime: 661 to 780
Nonprime: 601 to 660
Subprime: 501 to 600
Deep Subprime: 300 to 500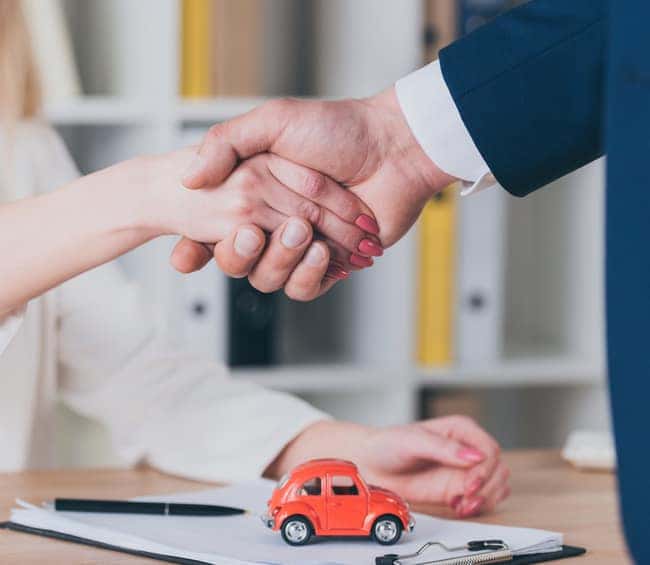 Bad Credit Car Finance Options
Bad credit doesn't prevent you from getting an auto loan in Port Lavaca, but it does make the process more complicated. That's why it's important to do your research and inform yourself about everything from the financing approval process to what causes vehicle repossession – and our finance department is happy to help you every step of the way!
Highlight Positives: A bad credit score is just a small part of a bigger picture. Maybe you have a bad score from business debt, but you have a history of prompt car payments. These positive behaviors can have a big impact on lenders.
Bring Proof: If you want to make a case for yourself, bring proof! Pay stubs, auto insurance documents, phone bills, and other documentation can highlight your responsibility.
Offer Collateral: If you can put down a good down payment of at least 25%, you're more likely to get a better auto financing package. Check out our car payment calculator to start crunching numbers!
Explore Your Options with Allen Samuels CDJR Aransas Pass
We've been through the basics, but if you still have questions about what credit score is needed to finance a car, feel free to contact us in Aransas Pass. The team at Allen Samuels CDJR Aransas Pass can help you find the financing solutions that you need, no matter your credit score, so don't hesitate to reach out!
More from Allen Samuels CDJR Aransas Pass
Are you having trouble choosing from among the 2023 Jeep Grand Cherokee trim levels, like a lot of Aransas Pass drivers? Which is best for you, and how much does the 2023 Jeep Grand Cherokee cost? The 2023 Jeep Grand Cherokee price starts at $41,530. We'll take a closer look at the 2023 Jeep Grand Cherokee…

Wherever life takes you in and around Corpus Christi, you can count on the 2022 Jeep Grand Cherokee to be your faithful travel companion. There's no secret, the Grand Cherokee lineup is the authority for SUVs with impressive off-road capability and on-road refinement but, is the 2022 Jeep Grand Cherokee fuel-efficient? Keep reading as the team…

If you need a new pickup truck that can handle any task around Aransas Pass, you can't go wrong with a RAM truck! These iconic trucks combine impressive towing and payload ratings with top-of-the-line luxury features that leave competitors in the dust. But is the 2022 RAM 2500 good on gas? How many miles per gallon…