What Does Liability Insurance Pay For?

Most states require drivers to have liability insurance to cover the cost of accidents in which they are at fault. But what does liability insurance pay for? Liability insurance protects the victim of the accident by covering a variety of costs related to the accident. The state you live in will determine how much you need, but you can buy more than what's required by law if you choose to do so. Our finance department can help Kingsville drivers with further insurance questions, including inquiries on comprehensive insurance and how much liability insurance is required by law in their state.
Auto Liability Insurance Definition
Curious about the auto liability insurance definition? Liability insurance covers costs incurred in an accident in which the operator of the vehicle was at fault. It does not protect you, the driver, but instead pays the cost that the other driver in an accident incurs (physical injuries, damaged property, etc.). You are required to buy some amount of liability insurance when you purchase a vehicle to protect yourself financially if you're sued as well as a potential victim.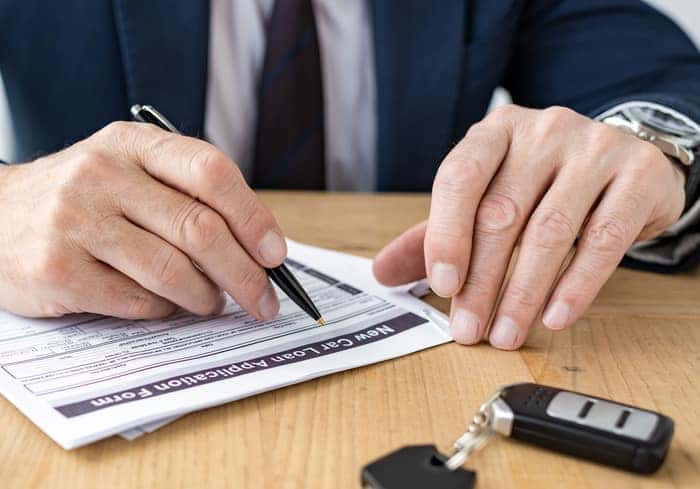 How Does Liability Insurance Work?
Are you looking into liability insurance and asking yourself, "How does liability insurance work?" Liability insurance pays for the damages caused by an accident in which you're at fault. How much liability insurance will cover an accident is dictated in the terms. Each state requires a set amount, but you can increase that amount if you want more coverage. Liability insurance covers an array of physical and property damages, including:
Bodily Injury:
Medical and hospital bills
Long-term nursing care if needed
Funeral expenses in the event of a fatal accident
Rehab
Pain and suffering
Lost earnings
Property Damage
Repair expenses
Replacement parts
Vehicle damage
General property damage (house, personal property, etc.)
Pets
Limits For Liability Insurance
A split limit allows you to set an individual limit on physical and property damages, which pays for each person's injuries in the vehicle. A single limit puts aside a lump sum for all damages incurred by the victim of an accident. Which one you choose will depend on state law and personal preference.
Rely on Allen Samuels CDJR Aransas Pass for Finance & Insurance
Now that you know what liability insurance pays for, it's time to look into your coverage options. The definition of liability insurance is more complicated than we can fit in a couple of sentences, but we hope we've helped you grasp a better understanding of it. Liability insurance helps you cover costs as well as protects victims from paying the price of an accident they were not at fault for. For help with more finance and insurance questions, reach out to our finance department! We're happy to help with any leasing or financing questions such as inquiries on getting a cosigner off a car loan. If you're ready to buy a vehicle from us, apply for financing and see if you're approved!
More from Allen Samuels CDJR Aransas Pass
Are you having trouble choosing from among the 2023 Jeep Grand Cherokee trim levels, like a lot of Aransas Pass drivers? Which is best for you, and how much does the 2023 Jeep Grand Cherokee cost? The 2023 Jeep Grand Cherokee price starts at $41,530. We'll take a closer look at the 2023 Jeep Grand Cherokee…

Wherever life takes you in and around Corpus Christi, you can count on the 2022 Jeep Grand Cherokee to be your faithful travel companion. There's no secret, the Grand Cherokee lineup is the authority for SUVs with impressive off-road capability and on-road refinement but, is the 2022 Jeep Grand Cherokee fuel-efficient? Keep reading as the team…

If you need a new pickup truck that can handle any task around Aransas Pass, you can't go wrong with a RAM truck! These iconic trucks combine impressive towing and payload ratings with top-of-the-line luxury features that leave competitors in the dust. But is the 2022 RAM 2500 good on gas? How many miles per gallon…