Why Buy a Jeep Lift Kit near Aransas Pass?


You're probably already aware that the new Jeep lineup encompasses some of the most capable off-roading SUVs available anywhere near Aransas Pass. With a rich history of providing superior off-road capability, Jeep is often thought of as the brand to beat where 4×4 ability is concerned, and for good reason. But for some venturesome Corpus Christi and Kingsville area drivers, a new stock Jeep just won't cut it. That's where a lifted Jeep can come in. Why buy a lift kit for your Jeep? Whether you're interested in a Renegade lift kit, a Wrangler lift kit, or a Grand Cherokee lift kit, lifting your Jeep will undoubtedly improve both its styling and off-road performance.
Jeep Lift Kit Options
With all the Jeep lift kits available to choose from, Victoria and Kingsville drivers like you will want to pick one based on how much you want to spend, how much you want to modify your Jeep, and what you plan to use your vehicle for. After thinking about these things, you might decide that choosing a 4WD vehicle is enough. But for many, including, maybe, you, a lift kit can provide the true off-roading ability you need. With all the above having been said, here's an overview of common Jeep lift kit types, along with what each can provide you:
Body Lift Kit
This kind of Jeep lift is best used for aesthetic benefit only. It includes:
1-3 inches of space added between the Jeep body and the Jeep frame
Suspension and wheel remain the same
Budget Boost / Coil Spring Spacers
This kind of Jeep lift kit type is mostly cosmetic, but requires some small suspension modification. It may also allow you to add larger tires to your Jeep. Components include:
Coiled spacers placed on top of your vehicle's coil springs
Added benefits include 1.5-2 inches of lift
Ride quality remains similar to stock
Coil Lift Kit
A good choice for true off-roaders, the features of this kind of Jeep lift kit include:
Longer coil springs
An additional 2-3.5 inches of suspension lift
Increased articulation for off-roading
Short Arm Lift Kit
This suspension modification requires major upgrades, so it's most popular with Jeep owners who plan to do a whole lot of off-roading. Included are everything you find in a coil spring lift kit, plus:
Longer front and rear coil arms for over 2-6 inches of lift
Larger sway bar links and shocks
Extra ground clearance
Long Arm Lift Kit
Want this most-impressive lift kit for true off-road ability? Leave its installation to true Jeep service and modification professionals. It requires careful installation with welding and fabrication, but the effort and cost can be worth it since it offers the following features:
Long control arms mounted further back on the Jeep frame
Better suspension angles
Adds 3-6.5 inches of lift or more
Extreme articulation and crawling abilities
Arms can sometimes get caught on rocks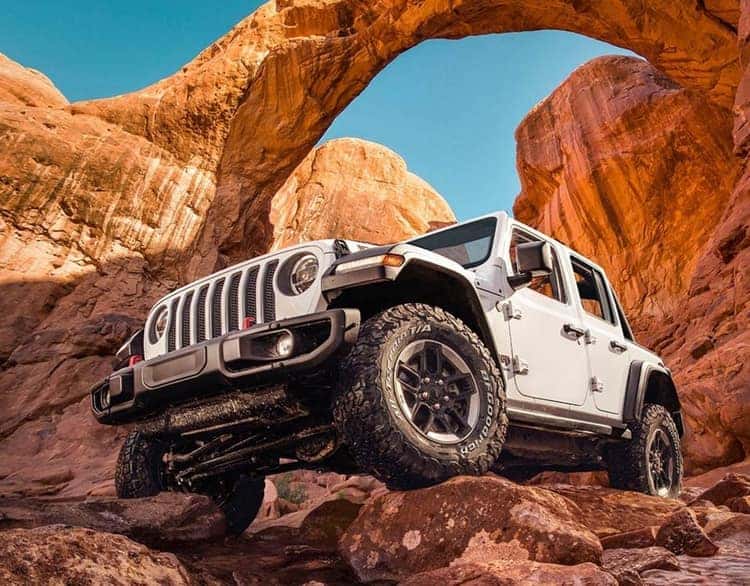 Popular Jeep SUV Specs By Model
Before choosing a Jeep Wrangler lift kit or Jeep Grand Cherokee lift kit, or a kit for whatever kind of Jeep you drive around Aransas Pass, find out the standard specs for popular 2020 Jeep models:
Jeep Renegade: Strut front suspension, multi-link rear suspension, 16-inch wheels, 66.5 inches in height
Jeep Compass: Strut front and rear suspension, 16-inch wheels, 64.6 inches in height
Jeep Cherokee: Strut front suspension, multi-link rear suspension, 17-inch wheels, 65.7 inches in height
Jeep Grand Cherokee: Short and long arm front suspension, multi-link rear suspension, 17-inch wheels, 69.3 inches in height
Jeep Wrangler: Leading link front suspension, trailing arm rear suspension, 17-inch wheels, 73.6 inches in height
Jeep Gladiator: Multi-link coil solid axle front and rear suspension, 17-inch wheels, 75.0 inches in height
Order Jeep Parts for Modifications in Aransas Pass
Have any additional questions or concerns about Jeep parts and accessories? Contact us to learn more about how to make the most of your Jeep ownership experience! Don't hesitate to order parts online either, if you know what you want and are ready for increased fun and functionality both on and off-road!
More from Allen Samuels CDJR Aransas Pass
If you are looking for muscle and power on your drives around Corpus Christi, then the 2021 Dodge Charger is the vehicle you need. There are seven 2021 Dodge Charger trims for you to explore. The classic sports sedan has the flexibility of style and power to move you through your town sleek and subtle or…

If you live in the Corpus Christi area, you've likely seen the popular Dodge Charger on the roads. With the popularity of the vehicle, you may have asked yourself "How much is a Dodge Charger?" The Dodge Charger price starts at $30,570 MSRP, and has seven different trim levels to choose from. Learn more about the…

The Jeep Wrangler is known for its classic exterior design that talks an impressive talk but walks an even more impressive walk. However, you'll find that the Jeep Wrangler is even more stunning when you step inside the cabin. Take a look at the Jeep Wrangler interior with Allen Samuels CDJR Aransas Pass to see what kinds of features…
Search
Find Your Vehicle
Search By Keyword
Search By Filters
Saved
Saved Vehicles
SAVED VEHICLES
You don't have any saved vehicles!
Look for this link on your favorites:
Once you've saved some vehicles, you can view them here at any time.
Share
Share This
Choose How To Share:
No Charge Worry-Free Maintenance
Confidence with Vehicle Protection
Dedicated 24/7 Owner Support
VIP Access to Jeep Brand Events
No Charge Worry-Free Maintenance
Confidence with Vehicle Protection
Dedicated 24/7 Owner Support
VIP Access to Ram Brand Events
This vehicle is being built now. Contact dealer to reserve this vehicle and discuss options for locking in pricing and eligible incentives.
Vehicles identified as "Being Built" are pre-production vehicles that are not yet on the dealer's lot or in transit. Pre-production computer-generated images may be shown and may not be representative of the vehicle listed.
MSRP for standard equipment plus optional equipment listed. Vehicle delivery date and other vehicle information, including pricing and incentives, are subject to change until the vehicle build is complete.
MSRP excludes additional charges including without limitation any delivery fees, government fees and taxes, title and registration fees, finance, filing and processing charges, emission testing charge, accessories and upfits.