How Often to Change Engine Air Filter

You want to make sure you're doing everything to keep your new Jeep Cherokee running as well as it did the first time you took it out on the streets of Aransas Pass. That means staying on top of regular maintenance, and making sure you're using the best parts made for your vehicle. How often should you change engine air filters? For average driving in Corpus Christi, we recommend every 30,000 – 45,000 miles, about every three or four years.
What Does an Engine Air Filter Do?
Your engine air filter keeps dirt, sand, pollen, dust, and other contaminants from getting into your engine, where they can cause damage, lower performance, and give your car lower fuel economy. It's normal for filters to become full over a couple of years of use when you're driving around Kingsville and %%taget_city_3%%. Here are some signs that it's close to time to buy a new engine air filter:
Sluggish acceleration
Misfiring spark plugs
Black smoke from the exhaust
Service Engine light comes on
The parts department at Allen Samuels CDJR Aransas Pass offers specials on genuine MOPAR parts, including engine air filters.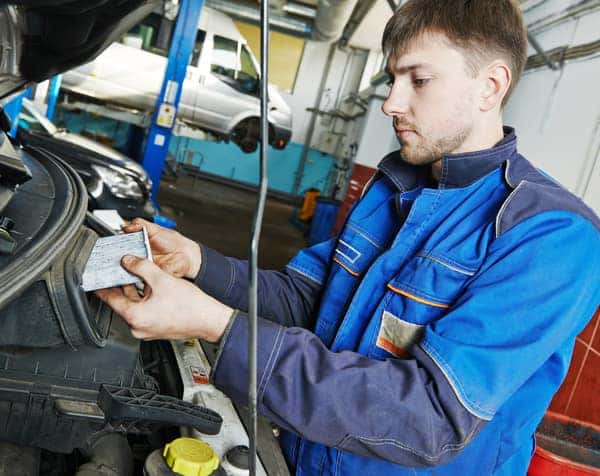 Replacement Schedule
While 30,000 – 45,000 miles is a good guideline for when to anticipate replacing your engine air filter, always check your car's owner's manual to see what CDJR specifically recommends. Also keep in mind that if you take your Jeep Gladiator off-roading on the nearby beaches, the engine air filter will fill up with sand and dirt faster than usual. Driving in hot conditions in the Beeville area will also shorten the life of the filter. Save money on more frequent replacements with our MOPAR parts and service coupons.
Allen Samuels CDJR Aransas Pass Uses Genuine MOPAR Engine Air Filters
MOPAR means parts and accessories that are made specifically for your RAM, Dodge, Jeep, or Chrysler. When you add a MOPAR engine air filter, you protect your warranty. Using aftermarket parts and accessories – items that aren't made by MOPAR – can void your warranty.
Keep Your Car Running Great with Allen Samuels CDJR Aransas Pass
Educated drivers keep their cars running better, longer! To learn more about how to best care for your vehicle, check out our service video library. Then visit the Allen Samuels CDJR Aransas Pass service department for all your service needs. From engine air filters to regular oil changes, our certified technicians know exactly how to best maintain your CDJR and how often you should change your engine air filter.
This document has been composed with the free HTML edior which can be accessed here. Use it every time for document editing.
More from Allen Samuels CDJR Aransas Pass
2022 RAM 1500 mpg is important, as your mount of choice shouldn't leave you hanging, regardless of the price of a gallon of gas. So, how fuel-efficient is a RAM truck? How many miles per gallon does the 2022 RAM 1500 get? 2022 RAM 1500 gas mileage is up to 22 mpg city and…

Curious as to how much a 2022 RAM 1500 weighs? Below we'll go over all the different weights and measurements, from the 2022 RAM 1500 curb weight (which is perhaps the most useful metric to consider for many drivers), and other specialty measurements that can be useful to know when hauling heavy loads around…

How much can a 2022 Jeep Grand Cherokee tow? The 2022 Jeep Grand Cherokee's maximum towing capacity is 7,200 pounds, when properly equipped. Each of the three engine options available for the Grand Cherokee offers excellent torque, which then translates to impressive towing capabilities. There are also plenty of other Grand Cherokee towing features…