Why Is My Car Leaking Water?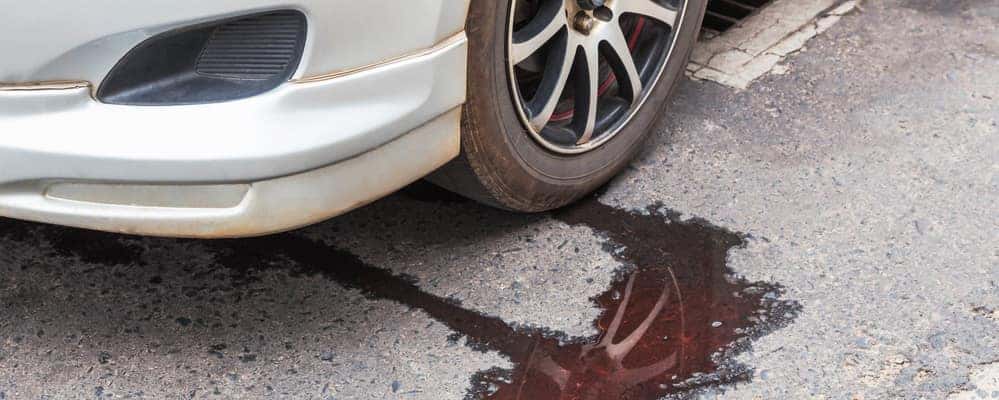 If you notice your car leaking water, it's probably fine. If the leak forms a small puddle near the back of the engine compartment, it's simply depositing excess condensation from the air conditioner. A water leak near your tailpipe is almost always the result of exhaust condensation, which occurs naturally as your tailpipe cools down.
Corpus Christi and Kingsville drivers should note that not all "water" leaks are water, and some leaking fluids can be dangerous. If you notice a drip, it's important to identify the cause of the leak right away — or get inspected at the Allen Samuels CDJR Aransas Pass service center today.
Identifying the Cause of Your Leak
When you identify some strange fluid or find water leaking from under car, there are a few simple steps you can take to narrow down the range of possible issues:
Exhaust condensation can generate a small amount of water, but if you notice more than a little fluid coming from your tailpipe, you may have blown a gasket. This will cause you to burn coolant along with your fuel. In this case, you'll notice a large amount of water and white smoke.
Place a sheet of white cardboard or paper under the vehicle, where the leak would normally fall. This will help you to identify the fluid color and determine whether or not it's really water.
If you have a coolant leak rather than a water leak, you'll be able to notice by the fluid's bright color. If you notice a fluid that you can't identify, check your coolant levels to identify the problem.
A cracked windshield wiper fluid reservoir might also be the cause of a leak under your car, and in this event, the leak will appear next to your front tires. The cause of this leak is water in your windshield wiper fluid, which can freeze, expand, and crack the plastic reservoir. The color of this leaking fluid will usually be either light green or light blue.
If condensation is not the cause of your leak, fixing the problem yourself may be difficult. Schedule service with Allen Samuels CDJR Aransas Pass near Corpus Christi to get the leak fixed quickly.
What Fluid Is Leaking From My Car?
If you notice your car leaking fluid, discovering the color of the fluid can give you a much better idea of where your problem is coming from. Since discerning color can be difficult if the fluid is backed by concrete, placing a sheet of paper or white cardboard beneath the leak can make the process a whole lot easier. Here's your guide to identifying the problem:
Warm Colors

Red: If you notice a red fluid, you're probably dealing with an automatic transmission fluid leak or a power steering fluid leak.
Pink: A pink fluid leak is usually also an indicator of leaky transmission fluid or power steering fluid.
Orange: Older transmission fluid might also appear orange. Although radiator coolant is usually cooler in color, a rusty radiator can cause it to take on an orange coloration.
Yellow: A bright yellow fluid is almost always discolored radiator fluid.

Cool Colors

Light Brown: If the leak you notice is light brown, you could be dealing with a gear fluid leak or a motor oil leak. In the former case, you'll notice a rather pungent smell.
Dark Brown: If you notice a dark brown or black fluid under your car, there's a good chance that you're leaking older, well-used engine oil. Brake fluid is also dark brown.
Blue: Leaking windshield wiper fluid most commonly appears blue to the eye.
Green: If you notice a green fluid under your car, you may be dealing with one or more antifreeze leaks. Windshield wiper fluid might also take on a green hue.
Visit Allen Samuels CDJR Aransas Pass in Aransas Pass for Service
The Allen Samuels CDJR Aransas Pass service center is just a short drive from Port Lavaca and Beeville, so if you notice your car leaking water, find your TPMS light is stuck on, or come down with some other maintenance issue, don't hesitate to contact us for advice!
Sometimes even after inflating your tires the tire pressure light remains on. It's important to reset this light so that your tire pressure monitoring system (TPMS) can keep you alert and aware of possible issues with your wheels. Learn how to perform this simple reset with the experts at Allen Samuels CDJR Aransas Pass. Schedule Service Service Specials Resetting…

If you notice your car leaking water, it's probably fine. If the leak forms a small puddle near the back of the engine compartment, it's simply depositing excess condensation from the air conditioner. A water leak near your tailpipe is almost always the result of exhaust condensation, which occurs naturally as your tailpipe cools down….

Adventure lovers have been turning to the Jeep Wrangler for a thrilling ride for decades. The Wrangler is one of the more inventive vehicles with a removable top and doors to get you connected to your surroundings. Learn how to take the doors and top off your Jeep Wrangler with our comprehensive guide. Schedule Service…