Go Fishing and Chartering Around Aransas Pass, TX

Are you an avid fisher? Is this your first time chartering a boat around Corpus Christi? From relaxing to thrilling, the aquatic activities around Aransas offer a little something for visitors and locals alike. If you're looking for more to do, explore the Allen Samuels CDJR Aransas Pass staff's favorite fishing and chartering spots around Aransas Pass, TX below. After all, your local car salesmen need to take a break from selling quality Dodge and Jeep vehicles once in awhile!
Captain Kelly's Deep Sea Headquarters
Deep Sea Headquarters (40 W Cotter Avenue) has a fleet of three fantastic boats equipped with everything you need, from rods and reels. Staffed with an experienced crew, Captain Kelly promises each boat will include "the comforts of home." Deep Sea Headquarters has the resources to offer a wide range of experiences, including short trips for beginners and long trips for the experienced. Enjoy a variety of trips, from 5-hour-long offshore fishing trips to 60-hour trips in search of the "Monster Yellowfin Tuna"!
Flounder Gigging Trips: Surrender At Sunrise
Except for November, you can join Captain Dave for a fishing trip year-around. Surrender at Sunrise (519 Bigelow Street) is a family-friendly operation that offers flounder gigging on Dave's 22' boat during the beautiful Florida evenings—it's equipped with underwater lights that illuminate the action. You'll drift along a shallow, sandy area alongside an oyster reef and, if you're lucky, appear with your catch on Surrender at Sunrise's site.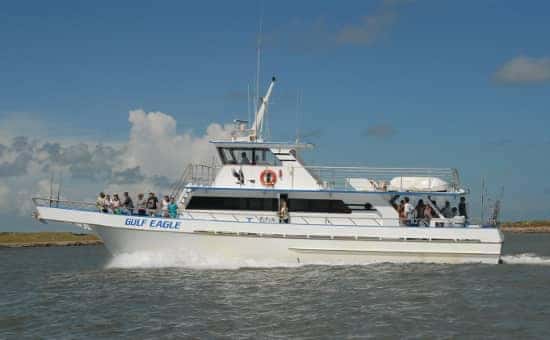 Aransas National Wildlife Refuge – San Antonio Bay
Aransas National Wildlife Refuge was once an island that, over the course of 120,000 years, joined mainland Arsanas. A prominent refuge among the American wildlife conservation movement, the ANWR has helped many species thrive, and has been a haven for the whooping crane. There's a fishing pier north of the refuge that offers visitors peaceful afternoons filled with beauty. You can also go wade fishing for black trout and black drum in San Antonio Bay from April to October—when the whooping cranes aren't around. Beware of stingrays, jellyfish, and alligators!
Notable Mentions
There's more great fishing along the Aransas coast than we could list here. Consider these suggestions:
Fishing and More With Allen Samuels CDJR Aransas Pass
As Port Aransas-area locals, the employees in the Allen Samuels CDJR Aransas Pass service and finance centers like to think they know a lot about local fishing. But if we forgot any great fishing spots or charter boats, feel free to reach out and let us know! And if you liked our suggestions, check out our favorite Port Lavaca-area restaurants, best places to go canoeing, find fun things to do when you spend the weekend in San Antonio, and find the best spots to watch dolphins. And if you need a new Jeep Wrangler or 2019 Dodge Durango to get to and from these great Port Aransas places, well, you know where to find us!
More Local Attractions Around Aransas Pass