How Do I Check Tire Tread Depth?

"How do I check tire tread wear?" There is a simple answer to this common question: grab a ruler or penny, and you can check your tire tread depth from the comfort of your garage in Kingsville! Contact us if you have any questions, or read on to find out how to properly inspect your tires and know if it's time to visit a service center for some new wheels.
What is the Recommended Tire Tread Depth?
New tires have a tread depth of about 10/32 or 11/32 of an inch (about a third of an inch.) Winter tires and tires designed for off-roading, as well as some truck and SUV tires, may have even deeper tread grooves.
When your tires approach 2/32 of an inch, they are in need of replacement. It is essential for safe driving to have proper tire tread at all times, and tire care can even extend the lifespan of your tires. When you need to replace your tires, check out the tire numbers on the sidewall to know what size to replace them with, consult your owner's manual, or contact our service team.
The Penny Test
While using a ruler may provide more accurate results, you can check tire tread depth by using a common penny. The design on the U.S. penny makes it the perfect household tool to measure your tire wear. Here is how it works:
Insert a penny with Lincoln's head face first into a tire tread groove.
See if Lincoln's head is covered by the grooves of the tire.
If you can see all of Lincoln's face, that means your tire treads are 2/32 inches deep or less, which means they are not safe for driving and should be replaced.
Repeat this process on all four tires and be sure to check each tire in multiple locations.
Additional Ways to Check Tire Health
There are special tools available in Port Lavaca to check your tires, such as a tire tread depth gauge. Another option is tire tread wear bars that have a visible mark built into the tire which indicates the 2/32 inch mark. When inspecting the tread depth of your tires, take some time to do a full tire inspection, checking for:
Tire pressure
Any visible tire damage
Tire rot or disintegration
Wheel alignment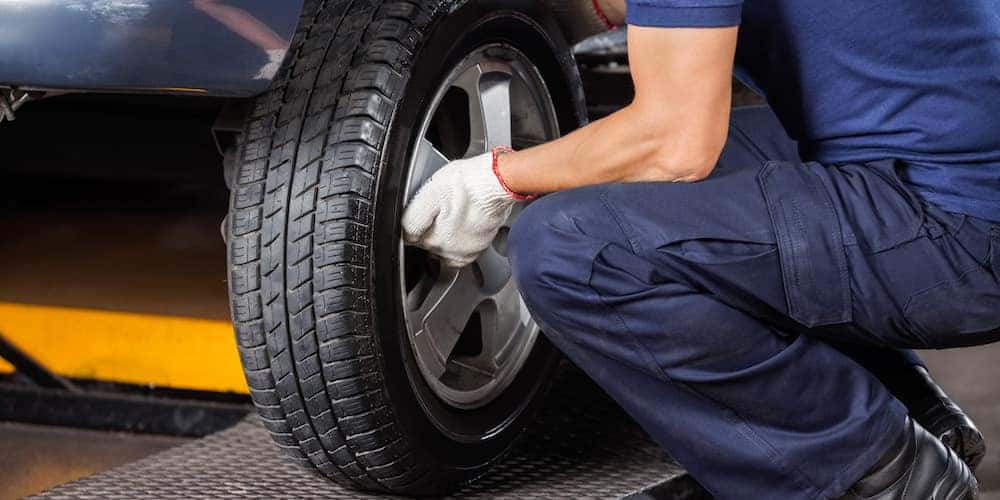 Maintain Your Tires With Help from Allen Samuels CDJR Aransas Pass
When you visit our local service center for regular car maintenance, our highly-skilled technicians will inspect your tires for any issues or wear. If it's time to rotate or replace your tires, visit our tire center. We offer a variety of parts and service specials so you can be sure you're getting a great deal! Want to learn how often to change your engine's air filter, or have questions about the CDJR warranty? Or do you need to know how to remove a cosigner from your car loan? We can help with that too!
More From Our Service Department
Sometimes even after inflating your tires the tire pressure light remains on. It's important to reset this light so that your tire pressure monitoring system (TPMS) can keep you alert and aware of possible issues with your wheels. Learn how to perform this simple reset with the experts at Allen Samuels CDJR Aransas Pass. Schedule Service Service Specials Resetting…

If you notice your car leaking water, it's probably fine. If the leak forms a small puddle near the back of the engine compartment, it's simply depositing excess condensation from the air conditioner. A water leak near your tailpipe is almost always the result of exhaust condensation, which occurs naturally as your tailpipe cools down….

Adventure lovers have been turning to the Jeep Wrangler for a thrilling ride for decades. The Wrangler is one of the more inventive vehicles with a removable top and doors to get you connected to your surroundings. Learn how to take the doors and top off your Jeep Wrangler with our comprehensive guide. Schedule Service…